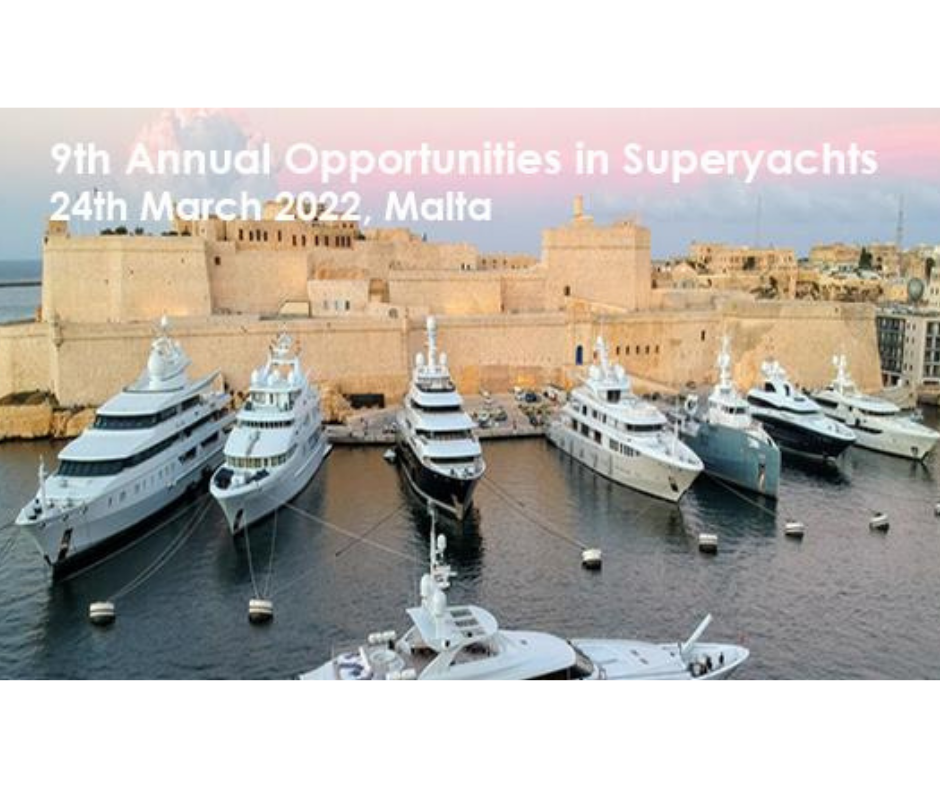 Breaking the Mould Accounting joining as Guest Speaker at Malta event
4 March 2022
The 9th Annual Opportunities in Superyachts event is scheduled to take place on March 24th, 2022 at the Corinthia St Georges Bay in Malta.
We are thrilled to announce that Alasdair Milroy, CEO and Founder of Breaking the Mould Accounting, will attend the event as a speaker.
The event will bring together an international audience of superyacht industry leaders, offering an excellent occasion for industry networking. The full programme of panel discussions, roundtables and keynote presentations also includes a Drinks Party, Networking Lunch and Refreshment Breaks, allowing plenty of time to meet with important business contacts.
What's more, on the evening before Opportunities in Superyachts, attendees can join delegates attending its sister conference, Opportunities in Business Jets, at their Cocktail Party on Wednesday, 23rd March, 2022. By running the conferences back-to-back, delegates can attend both and take advantage of the business development openings across allied industries.
Organised by Quaynote Communications, the conference will be chaired by Andrew Charlier, HFW.
New speakers just confirmed:
MATTY ZADNIKAR, CEO, SeaNet Europe
ANTHONY GALEA, Managing Director, Vistra Marine & Aviation
JENNIFER TIMINIS, Director, Sea Greece
JORG WENDT, Nautilus
CHARLES WATKINS, Managing Director, Clinical Psych/Psychtherapist
PAULINE MICALLEF, Maritime MT
DOMINIC BULFIN, DIrector, Bargate Murray
ALASDAIR MILROY, Founder, BTM Accounting
NIKI TRAVERS TAUSS
MALCOLM WARR, Chair, Maritime Services Management
MICHAEL SKOV CHRISTENSEN, Satcom Direct
MIKE WIMBRIDGE, Managing Director, Pantaenius UK

Along with other confirmed speakers:
* QUENTIN BARGATE, CEO and Founder, Bargate Murray
* CHRISTOPHE BOURILLON, CEO, PYA
* PANOS ALEXANDROU, CEO, Kition Ocean Holdings
* ALEX CHUMILLAS, Tax Marine & Aviation Spain
* JANET XANTHOPOLOUS, Rosemont Yacht Services
* MAJA BAN, Director, MYS Yachting
* CARLA BELLIENI, Partner, Studio Piana Illuzzi Queirolo Trabattoni
* PAUL RUTTERFORD, Operations Director, Viking Crew
* JESSICA GALEA, Senior Associate, Dingli & Dingli
* KURT GUTTERIDGE, Naval Architectural Services
* ALISON VASSALLO, Partner, Fenech & Fenech
* MICHAEL MIFSUD, Yachting Malta
* NICOLAS VALIN, Founder & CEO, One Superyachts
* JOE HANCOCK, Cybersecurity & Digital Intelligence, Mischcon de Reya
* ALEXANDRE BAYEUX, YachtCyberSafe
* AVNISH DHALL, Sales Manager, Melita Marine Group
Topics up for discussion at Opportunities in Superyachts, 9th Annual Conference include:
The Future for the Superyacht Industry – CEOs tell all
Sustainability – how is the industry responding to the need for sustainable superyachts?
Hot destinations – where are the exciting, new superyacht destinations?
Family Offices – what is their role in the superyacht sector?
Digitalisation, AI and Cybersecurity – examining the opportunities and challenges of on-board technology
Crew Recruitment – captains, contracts and the future for crew
Taxing questions – our panel of experts focus on taxation in different jurisdictions
The post-COVID world – how has COVID changed the superyacht industry now and going forward?
To see the full conference agenda, refer here: https://quaynote.com/conference/9th-annual-opportunities-in-superyachts/
Contact Alasdair Milroy for any questions regarding yacht accounting, family offices or taxation in different jurisdictions. Email: hello@btmaccounting.com